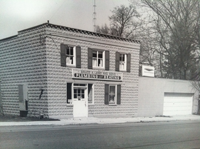 Lebo's Plumbing, Heating & Air Conditioning is a full service contractor celebrating over 60 years of operational excellence.
Bruce Lebo opened the doors in 1960 to provide the Carlisle Area with Plumbing and Heating services. Over the years, we have grown to become a trusted HVAC services company offering a wide variety of name brand products and highly skilled services for heating, cooling, refrigeration, comfort, and safety across the Cumberland Valley. Under continuous ownership of the Lebo family, we remain focused on the customer by providing them with superior design, installation and service capabilities.
We are continuously improving our offerings and researching new products to provide unique, customized solutions for every home comfort need. Employees are actively involved in product and technical training. In addition to our exceptional customer care, we are always available to answer any questions or assist with your home comfort and design needs.
Our customers can be assured that when you work with Lebo's, whether it is regarding a small service repair, preventative maintenance, indoor air quality or system upgrades, we are committed to providing you with the level of quality and service that can only come from a business committed to your complete satisfaction. We provide respectful, dependable, honest and reliable customer service for any job, no matter how large or small and our pricing is competitive and fair with no hidden or surprise costs.
Lebo's Plumbing, Heating & Air Conditioning is your one-stop source for all of your plumbing, heating, air conditioning and air quality needs.